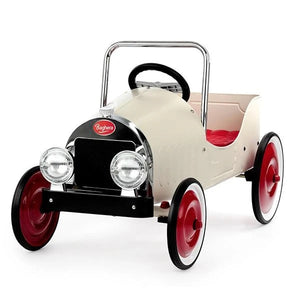 A pedal car for children from 3 years-old!
A "collector's" pedal car for children! Inspired by the 1930s, with a deliciously retro style, this metal car is very well equipped with a chrome grille, two large headlights and a windscreen handle. Well settled at the wheel of this superb "tacot", chic and full of charm, the little ones will be proud to get on board to go on an adventure!
A solid and durable toy.
This children car is made of metal. It is therefore very robust and will accompany the child in all his adventures as a young pilot. Its large wheels are topped with rubber tires, which allows this Baghera carrier to travel silently on any type of terrain (house, asphalt, gravel, grass, etc.). With its plastic mudguards, Children will be well protected and will be able to play car safely. The front and rear bumpers will protect the wearer from minor accidents.
Develops the child's motor skills.
This Baghera car is equipped with a back pedaling system, which allows a child from 3 to 6 years old to pedal easily. Thanks to this system, the child moves freely and without risk (no chain, no sprockets,…). The child can also put his feet on the ground to move forward. The pedals are adjustable in 3 positions, which will allow the cockpit to be adjusted to the child's growth.
An ideal birthday and decoration gift!
With its Red colour, chrome and vintage spirit, this small car is full of style. Many elements give it a distinctive look, such as the dummy counters on the dashboard, the fleece-like seat, its headlights or its dummy gearshift. Its chrome windshield is actually a carrying handle, allowing you to move this car easily