About Us
Hello!
Est. 2015
Sophea In Wonderland is a Brunei children's store featuring a curated collection of nostalgic toys, chic nursery essentials and all things whimsical for your little darlings.
We are proud to be the official retailer for some of the best brands in children's interior, toys and accessories.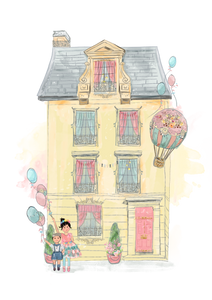 Our Values
We believe first and foremost in a business with barakah.

We focus on design-led and functional products that are original and safe for our children; toys that are heirloom quality that can be passed on to the next generation. We also focus on brands that are eco-friendly, sustainably sourced and ethically produced.
We believe in offering products at a fair price.
Our Mission
Our customers are at the heart of our business.
Our mission is to create an immersive shopping experience of walking into Sophea's universe!

Our mission is also to be a happy part of the children's childhood, to celebrate every milestone with them, to create memories with them.
We strive to offer Brunei parents (and overseas!) the best in children's brands at a fair price.
Our Brands
Stephen Joseph
Quut
Buzz Retail
My 1st Masjid
Royal Sejadah London
No Nasties
Posh Peanut
Mushie
Petit Monkey
Nothing But Amor
Doo Wop Kids
The Great Pretenders
Toshi
Baghera
Le Toy Van
byASTRUP
Moulin Roty
Djeco
Rifle Paper
Candylab
Kiko + GG
Meri Meri 
Sass and Belle
Rex London
Mimi & Lula
Whistle & Flute
Threadbear Design
Tender Leaf Toys
Glitter And Spice
Loulou Lollipop
Marmalade Lion
Anchor & Fox
Dolls by Mawar
OOLY
Calico
PlanToys
The Little Drom Store
Little Bearnie
And many more!