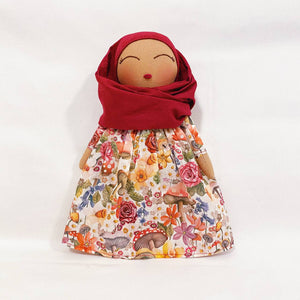 Salaam and Hello,
This is Petite Zahara, namesake of Mawar's (doll maker at DollsByMawar) maternal grandmother. She is one of a kind heirloom handmade hijab doll from Malaysia. Petite Zahara is so sweet and adorable. Her petite size is perfect, feels so tender in the palm of tiny little hands. Petite Zahara is ready for lots of gentle playtime and cuddles. All materials used in her construction have been carefully sourced and selected. She is made with lots of love and care. Petite Zahara has one removable skirt, a fix top and non-removable hijab.
She is approximately 25cm tall. Her top and skirt is made from Liberty Cotton Tana Lawn. She is able to sit and stand with support or when leaning against something. Her body is fully-lined and is firmly filled with premium resilient polyester filling. Her eyes and lips are hand embroidered. Her cheeks are delicately stained with Stockmar Waldorf beeswax rouge.
Besides being the companion for a child, she is perfect as a hijab introductory medium for children through play, beautiful for nursery décor, wonderful as keep sake, perfect as gifts or souvenir from Malaysia. 
DollsByMawar dolls are well-made handmade dolls, however not designed for rough play. They are recommended as heirloom dolls, delicate play for children over the age of 5 with adult supervision due to inclusion of small parts.