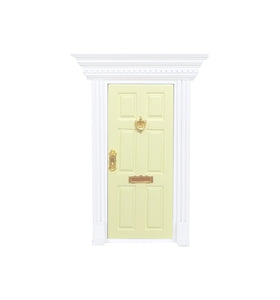 Hidden behind this wee door in the delicate shade of yellow is a secret passage to an enchanted land, one that is filled with the stories of fairies, elves, wonder, and adventure. 
With each door, you will find a golden glittering fairy just waiting to be named.  Place this fairy sticker behind your door for a little surprise.  
For entry, you will find a special key held in the magic bottle of fairy dust, one of which the fairies and elves may use. If your wee one has a secret message for the fairies and elves sprinkle a little key dust and…
And yes, we open
Our fairy doors come with:
Fairy dust, a key and a removable golden glittering fairy sticker.
To fit we recommend using:
3M Command products
Blu Tack
Velcro Dots
For best adhesion, fit your fairy door and removable sticker onto a clean surface.
my wee fairy doors are a magical way of evoking creativity and wonder by encouraging your child's imagination with hours of fun-filled role play.
Use as a parenting tool by leaving affirmation notes in their wee mailboxes or doorsteps from the 'fairies or elves', rewarding positive behaviour such as staying in bed or eliminating persistent thumb sucking.
Also widely used for the tooth fairy, dummy fairy or even for the Easter bunny and Santa's elves.  No need to sneak under the pillow searching for a little tooth, simply place it in the wee mailbox (sold separately).

Size: 140 x 203mm.  Made from wood using non-toxic paint.
Not recommended for children under 3 years old.