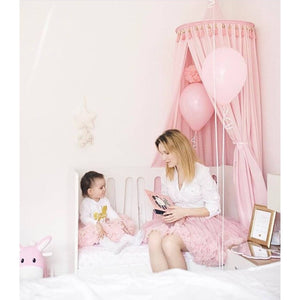 Hope and Jade Pink Round Canopy
Taking kids decor to a whole new level!

Our incredible range of handcrafted round canopies are designed to evoke and inspire your little ones imagination.

Create a beautiful play space, reading nook or dreamy bedroom with our adorable canopies. Place them over the bed for a magical place to dream at night or create a sweet play nook perfect for quiet time, reading, or endless pretend play. Each canopy comes with draw back ties and easily attaches to the ceiling.

Our canopies also have a small ribbon loop in the center to hang your favourite mobile or special toy.

Designed in Australia
100% Soft, High Quality Polyester

Measurements: 
Canopy height- 210cm 
Diameter- 62cm 
Hanging ribbon length (on top of the canopy)- 70cm  
Whole canopy height- 280cm

Canopy colours may appear slightly different to pictures due to lighting.
Photography and styling by
@k_bloves @hopeandjade @bonitalavi @miss.lily.loves @dani.dwyer