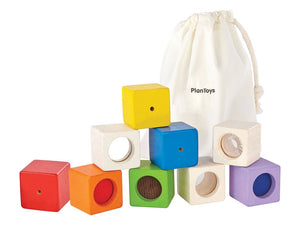 Creates learning opportunities through touch and movement!

Comes with 9 sensory blocks that aid sight, sound and tactile development. Little tots will love exploring the different textures on the tactile blocks; viewing their environment through the kaleidoscopic lens on the visual blocks; and shaking the auditory blocks to make sense of the different sounds produced.

Great for:
• eye-hand coordination
• visual perception
• sensory exploration
• kinaesthetic development

Constructed from chemical-free, kiln-dried recycled rubber wood. Assembled with formaldehyde-free E-zero Glue and coated with non-toxic, water-based dyes.
Set includes: 3 visual blocks, 3 auditory blocks, 3 tactile blocks