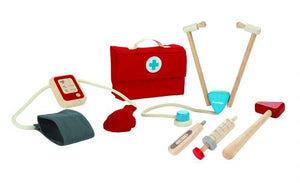 Make doctor visits easier!​ Medical role play kits effectively reduce fear of the unknown, by allowing little ones to experience being on the other side of the table!
Develops:
• imagination and creativity through role play
• cognitive and emotional development
• interest in basic medical care
• empathy and concern for others
Constructed from chemical-free, kiln-dried recycled rubber wood. Assembled with formaldehyde-free E-zero Glue and coated with non-toxic, water-based dyes.
Set includes: 1 handy case, 1 blood pressure monitor, 1 stethoscope, 1 thermometer, 1 syringe, 1 reflex hammer