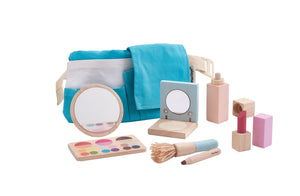 Stir artistic imagination without the mess! This absolutely beautiful wooden make-up set allows your little ones to put on lipstick, blush, eye shadow, foundation - even get those eyebrows on fleek! - all without the risk of any nasty make-up chemicals!
Features everything you need to get those budding imaginations blooming, including a wooden lipstick tube, perfume bottle, eyebrow pencil/eyeliner, compact mirror, as well as a quality beauty mirror that just might follow them straight to teenhood! Also comes with an elaborate palette that introduces our little artists to a world of secondary and tertiary colours, colour swatching, blending, and layering - as well as a make-up brush that is made with real cotton fibres, meaning it's safe to actually put against your skin for super realistic pretend play moments!
Encourages:
• self-directed, hands-on play
• language skills and vocabulary expansion
• imagination and creative expression
• confidence
• social and collaborative play

Constructed from chemical-free, kiln-dried recycled rubber wood. Assembled with formaldehyde-free E-zero Glue and coated with non-toxic, water-based dyes.
Set includes: 1 lip stick, 1 perfume bottle, 1 eyebrow pencil, 1 make-up brush, 1 compact mirror, 1 handheld mirror, 1 wooden make-up palette, 1 fabric make up bag