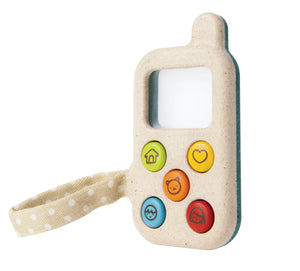 A perfect first phone for babies as young as 12 months! Designed with a screen magnifier and colorful dial buttons. Includes a cloth strap for easy handling.

Great for:
• eye-hand coordination
• visual exploration
• pretend play and first language skills

Constructed from sustainable PlanWood™. Assembled with formaldehyde-free E-zero Glue and dyed with organic pigments.
Approx. 6.3 x 11 x 1.9 cm