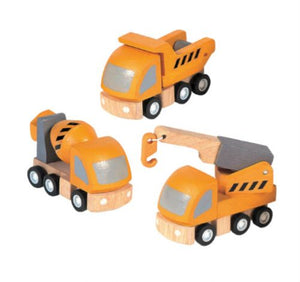 Set includes a dump truck, a crane lorry, and a cement mixer. Specially designed with movable parts on each vehicle to encourage imagination and pretend play!

Excellent for:
• tactile exploration
• social and verbal communication skills
• focus and attention span
• creativity and imagination through pretend play
• cognitive and emotional development
• social integration and collaborative play

Compatible with PlanWorld™ range and most wooden road & rail systems.

Constructed from chemical-free, kiln-dried recycled rubber wood. Assembled with formaldehyde-free E-zero Glue and coated with non-toxic, water-based dyes.
Set includes: 1 crane lorry, 1 cement mixer, 1 dump truck